Buddha and Buddhism
The Buddha who is the founder of the Buddhist religion is called Buddha Shakyamuni. "Shakya" is the name of the royal family into which he was born, and "Muni" means "Able One."
Buddha Shakyamuni was born as a royal prince in 624 BC in a place called Lumbini, in what is now Nepal.  Through his life story, he showed the manner of accomplishing the state of enlightement.  In Bodh Gaya, India he attained enlightenment in 589 BC.  At the request of Indra and Brahma, he dedicated the rest of his life expounding profound teachings to benefit the people of this world.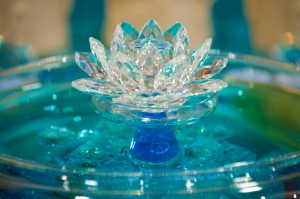 Buddha's Teachings
Buddhism is the practice of Buddha's teachings.  In these teachings, known as 'Dharma', he taught methods for gradually overcoming minds such as anger, jealousy and ignorance, and developing positive minds such as love, compassion and wisdom, and in this way. Through this we will come to experience lasting peace and happiness, and ultimately attain the full enlightenment of Buddhahood.
The meditations and practices that Buddha taught work for anyone, in any country, in any age. Once we have gained experience of them for ourselves we can pass them on to others so they, too, can enjoy the same benefits.
The Buddhist way of life – peace, loving kindness and wisdom – is just as relevant today as it was when Buddha appeared in ancient India.  To learn more about Buddhism and Buddhist practice visit The Learning Zone.